---
Main content
Top content
Contact details
Institut für Kognitionswissenschaft
- Neurobiopsychologie -
Universität Osnabrück
Wachsbleiche 27
49090 Osnabrück

Head of lab:
Prof. Dr. Peter König
Phone: +49-541 969-2399
Fax: +49-541 969-2596
Email: pkoenig_at_uos_dot_de
Office:
Julia Reuter
Phone: +49-541 969-2407
Fax: +49-541 969-2596
Email: julreuter@uni-osnabrueck.de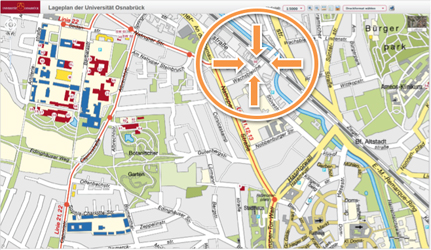 Overview about UOS buildings downtown and on Westerberg

Some helpful links to guide you:
Airport Münster-Osnabrück
DS Airport Shuttle
(Other airports with good train connection to Osnabrück are Düsseldorf, Hamburg, Bremen and Hannover)

Homepage of the Deutsche Bahn
(train connections and ticket reservation)

Bus lines
M2, 16, and 17 are direct connections from Osnabrück's central station to our institute and back.
You may schedule your connection here.

Fernbus
(overview and comparison of different long distance bus lines as an alternative to flying or travelling by train)

Routenplaner
(touring/road map)

Official website of the City of Osnabrück
Street map of Osnabrück

We are looking forward to welcoming you here...