---
Main content
Top content
Welcome to the Institute of Cognitive Science!
Over the last decades researchers of a variaty of disciplines have worked together to investigate mental processes and representations and build intelligent systems. Some of them right here at the intitute of Cognitive Science - and you can become part of it!
The Bachelor, Master and PhD programs in Osnabrück are the first substantial Cognitive Science programs offered in Germany. Within the largely method-oriented six-semester Bachelor Program, students will be able to obtain a "Bachelor of Science" in Cognitive Science. The four-semester Master Program treats phenomenological areas of cognition theoretically, empirically and by way of implementation. At the end of the Master Program, the students can obtain a "Master of Science" degree in Cognitive Science. The PhD Program is a curricular program enabling students to achieve a "Ph.D in Cognitive Science" within three years. Doctorate students carry out independent research in promising and highly active areas of Cognitive Science.
Top content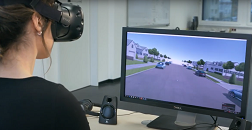 Impressions of the Study Program
Check out our video about the Cognitive Science study courses. Here, students will show and tell what your study experience may look like.
Bachelor Cognitive Science
This program is designed for you to explore the different fields within Cognitive Science, all while building a solid foundation in the core areas of Artificial Intelligence, Cognitive Modelling, Computational Linguistics, Neurobiology, Neuroinformatics, Neuroscience, Philosophy of Mind.
Master Cognitive Science
This Master Program allows you to refine your knowledge in Cognitive Psychology, Artificial Intelligence, Linguistics and Computational Linguistics, Neuroinformatics and Robotics, Neuroscience, and Philosophy of Mind and Cognition. You will build on your research skills through lab rotations, a year-long study project, and your master's thesis.
Online Master Cognitive Science
The "Osnabrück Cognitive Science Master Online Studies" (OS-COSMOS) program is an online track to the Master Program for international students living outside of Germany. You can major in Artificial Intelligence, Neuroscience, and Neuroinformatics.
Master Cognitive Computing
The Cognitive Computing Program specializes in studying computational models of cognitive abilities. This course addresses working professionals who will continue to work in parallel to their studies. Graduates of this program are able to use their acquired skills for the development of innovative intelligent systems and services.