---
Hauptinhalt
Topinformationen
Psycholinguistics/Neurolinguistics and Pragmatics
Topinformationen
Prof. Dr. Nicole Gotzner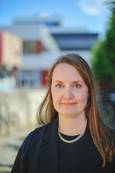 Institute of Cognitive Science
Wachsbleiche 27
49090 Osnabrück
Room: 50/103
Welcome to the SPA!
What do we study?
How do people infer meanings that go beyond what is literally encoded? What are the involved linguistic, pragmatic and cognitive mechanisms? How do children acquire language, meaning and concepts? How do groups form communicative strategies? At SPA Lab, we address these questions using a variety of experimental techniques as well as theoretical and computational modeling tools. We work with adults, children, clinical populations and data from corpora (e.g., negotiation situations). The topics we work on include but are not limited to the following: pragmatic inferences, irony, politeness, adjective meaning, scales, degrees, numerals, negation, modality, information structure and dialog.
Which research methods do we use?
Web-

based

experiments

(

PCIBex

)

Behavioural

experiments

with

children

in

the

lab

Eyetracking

EEG

Computational

modeling

(e.g. Rational Speech Act

modeling

)

Formal semantics and pragmatics
Prof. Dr. Nicole Gotzner
About (CV)
I was trained as a formal and experimental linguist. Before coming to Osnabrück University, I was an Emmy Noether group leader at the University of Potsdam, I held a replacement professorship at Humboldt University (Berlin) and a postdoc position at ZAS (Berlin), funded by the Priority Program Xprag.de. I was a visiting researcher at Macquarie University (Sydney) and Stanford (Palo Alto). Currently, I am an honorary fellow at UCL (London) and Ulster University (Belfast).