---
Main content
Top content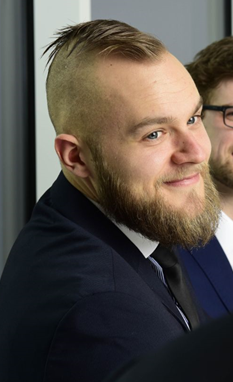 Maximilian A. Wächter
PHD Student
Room VR Lab (50/119)
Institute of Cognitive Science,
Wachsbleiche 27,
49090 Osnabrück, Germany
Research Interests
My research interest is humans interacting with artificial agents. How do we as humans feel around, perceive and interact with social robots?
Despite the rapid advances in AI and ML, there are many open questions regarding the human side of the development. How can systems create acceptance and trust? How does a social robot have to interact with humans to foster cooperation? For me, these questions are of profound importance for our future.
Current Project
Project Westdrive a joint Ph.D. project supervised by Prof. Dr. Peter König and Prof. Dr. Gordon Pipa
Westdrive is a large-scale virtual reality project, right at the intersection of NI and NBP. Here, we are experimenting as a team with the interaction and communication of humans and machines. This is embedded in the context of self-driving vehicles, which will be a key technology for the use of cognitive agents in the middle of our society. The project has started in 2018 and is currently in its third major development phase after successful displays at the IdeenExpo, MS Wissenschaft, BMBF as well as a current exhibition at the German Museum in Bonn.
Our goal is to gain insights into human trust-building behaviour and ultimately lower reservations regarding this technology. Our current sub-goal is to find a human-centered design for future HMIs that does not only foster human perception but also assists in motor response based on human intention recognition. If this sparks joy, come see us at the VR Lab (50/119),
Publications
(105) Westdrive X LoopAR: An Open-Access Virtual Reality Project in Unity for Evaluating User Interaction Methods during Takeover Requests
F Nezami,MA Wächter, N Maleki, P Spaniol, L Kühne, A Haas, J Pingel, L Tiemann, F Nienhaus, L Keller, S König, P König, G Pipa
Preprint
(102) From Interaction to Cooperation: a new approach for human-machine interaction research for closing the out-of-the-loop unfamiliarity
MA Wächter, F Nezami, N Maleki, P Spaniol, L Kühne, A Haas, J Pingel, L Tiemann, F Nienhaus, L Keller, S König, P König, G Pipa
Preprint
(101) WestDrive X LoopAR: An open-access virtual reality project in Unity for evaluating user interaction methods during TOR.
FN Nezami, MA Wächter, N Maleki, P Spaniol, LM Kühne, A Haas, JM Pingel, L Tiemann, F Nienhaus, L Keller, S König, P König, G Pipa
Preprint
(98) Project Westdrive: Unity City With Self-Driving Cars and Pedestrians for Virtual Reality Studies
FN. Nezami, MA Wächter, G Pipa and P König
Frontiers in ICT
(90) Human decisions in moral dilemmas are largely described by utilitarianism: Virtual car driving study provides guidelines for autonomous driving vehicles
A.K. Faulhaber, A Dittmer, F Blind, MA Wächter, S Timm, LR Sütfeld, A Stephan, G Pipa, P König
Science and engineering ethics