---
Main content
Top content
19. February 2021

:

The next step to address the reproducibility crisis in EEG research: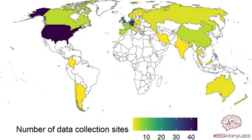 Pavlov YG, et al. (2020). #EEGManyLabs: Investigating the replicability of influential EEG experiments. DOI: https://doi.org/10.31234/osf.io/528nr. PsyArXiv
There is growing awareness across the neuroscience community that the replicability of findings on the relationship between brain activity and cognitive phenomena can be improved by conducting studies with high statistical power that adhere to well-defined and standardised analysis pipelines.
Driven by the desire to examine some of the foundational findings using electroencephalography (EEG), we have launched #EEGManyLabs, a large-scale international collaborative replication effort.
Having identified 27 of the most influential and continually cited studies in this field, we plan to directly test the replicability of key findings from 20 of these studies in teams of at least three independent laboratories.
This project is meant to update our confidence in some of the most influential EEG findings and generate a large open access database providing valuable information for future research practices and increasing international and multi-laboratory collaborations.